On behalf of Shelby Granite, thank you for taking the time to learn why families from all over central Alabama have trusted our family for decades to create handcrafted monuments to honor their loved ones. Our personal touch on each hand crafted monument results in a memorial as unique and special as the individual it honors. As a full-service monument company, we take ownership of the entire process—from designing and engraving, to installation. Families come to us to create their memorials because we provide exceptional personal service, the highest quality and outstanding craftsmanship that surpass all expectations. We invite you to visit one of our two locations, Calera or Harpersville, each combined offers the largest memorial selection in Shelby County. Our family of highly-skilled granite carvers, draftsmen and knowledgeable staff are always available to walk you through the process of creating the perfect memorial for your loved one. Contact us or stop by either location today.

New for 2014!
Cremation Pillars. There are many choices in color as well as design options from traditional sandblasting to laser etching. Click image below to browse other cremation options.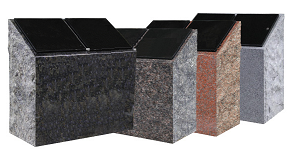 New Pet memorials available for 2014.